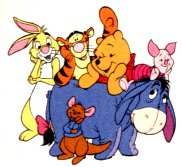 ---
This is kind of a hodge podge page of stuff I have found and liked and could not decide what page to put on so guess this is like the kitchen "junk drawer" full of good stuff!!
The Baby Place (Welcome to the Baby Place (formerly known as Baby Web), the starting point for parents for information on pregnancy, birth, and babies.) (Has annoying music though...)
The Down Syndrome WWW Page (The Down Syndrome WWW Page was established in February of 1995 and has been (and still is) compiled from the contributions of members of the Down Syndrome Listserv and others.)
Earlychildhood.com (Lifelong learning starts here. The source of information for all who share an interest in improving the education and general life experience of young children.
Education Center Hub (This site is part of easy-search.com. Links to many educational resources.)
Family Education Network The Community Dedicated to Children's Learning (Welcome to FamilyEducationNetwork, the largest K-12 Internet community for parents,teachers, and students. Our mission is simple: help children succeed in school and in life. The parent community dedicated to children's learning. Includes myschoolonline.com, teachervision.com, infoplease.com) (Many great resources here!)
Family Internet (Family Internet provides a centralized daily forum of information, education and entertainment to a broad user base, spanning pre-school to seniors. Content areas include parenting, health, finance, entertainment, food, lifestyle, broadcasting, education, news and sports.FI Network is Family Internet's portal site, providing access to the best of the web.)
John Hopkins University - Pediatric Points of Interest (Excellent General and Medical Resources- Includes: General and Medical Parenting Resources- Pediatric Medical Resources- Links to Other Pediatric and Medical Sites- Disease Specific Patient Education Material- Fun Stuff for Kids on the WWW)
I Am Your Child (I Am Your Child is a national public awareness and engagement campaign to make early childhood development a top priority for our nation. Since its spring launch in 1997, I Am Your Child has educated millions of parents and professionals about breakthrough new discoveries in the process of brain development. These findings reveal that the first three years of a child's life are more important for emotional and intellectual growth than previously thought. Through mass media, community mobilization, public education and policy outreach, parents and caregivers across the U.S. and around the world are learning how to make a difference in the lives of young children. I Am Your Child founders include Rob Reiner and Michele Singer Reiner, and Ellen Gilbert of International Creative Management, as well as a broad range of experts from the early childhood fields.
National Parenting Information Network NPIN (The mission of NPIN is to provide access to research-based information about the process of parenting, and about family involvement in education. We believe that well-informed families are likely to make good decisions about raising and educating their children. )
Parenting Special Needs (About.com home page for parenting special needs children, lots and lots of links, articles and highlights, worth a check!!)
ParenthoodWeb (An award winning resource for parents. Site includes articles, member discussion board, a newsletter and more!
Parentsplace.com (ParentsPlace.com is a one-of-a-kind environment; it's a place where parents of all types connect, communicate and celebrate the adventures of childrearing. Through our bulletin boards and chats, members share insights and lend a supportive ear. After all, parents are the best resource for other parents. At ParentsPlace.com, you can find your niche -- whether you are interested in talking about women's health, child development, your daily pet peeves, schoolwork, discipline issues, current family-related politics, or even a fiction bookclub (see: Boards on our top navigation line for access to all these great niche areas). In addition to community, members visit our home page to access the wisdom of our professional experts (all of whom are parents themselves) and to take advantage of our daily features. Each weekday, we provide four new articles; it's always a surprise and always focused on fostering healthy, loving families.)
The Perpetual Preschool (This site was built to celebrate the creativity and dedication of all those who contribute to the perpetual education of young children. While visiting, hands-on participation is encouraged! Feel free to explore all of the areas in the preschool. Please add to this site by sharing your wonderful ideas for working with young children. With your help and knowledge, The Perpetual Preschool can become an invaluable asset to Early Childhood Educators across the world!)
STARBRIGHT Foundation (The STARBRIGHT Foundation is dedicated to the development of projects that empower seriously ill children to combat the medical and emotional challenges they face on a daily basis. STARBRIGHT projects do more than educate or entertain: they address the core issues that accompany illness – the pain, fear, loneliness, and depression that can be as damaging as the sickness itself. Through the efforts of STARBRIGHT Chairmen Steven Spielberg and General H. Norman Schwarzkopf, an innovative combination of leaders from the worlds of technology, medicine, and entertainment have come together to ensure that no child need sacrifice quality of life to an illness.)
The Sibling Support Project (The Sibling Support Project is a national program dedicated to the interests of brothers and sisters of people with special health and developmental needs)
---

Home